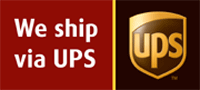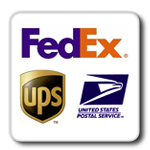 We ship UPS.
Upon request, we can ship via Fedex or USPS for an additional fee.  We ship all guns, antique or post 1898 signature required.  All post 1898 guns we must ship to an FFL or Cuiro and Relic license.  If you do not know of a license holder near you we are glad to help you locate one.  Feel free to email or call us, and we will help you find one.
We ship in double walled extra reinforced box's we have made expressly for us designed for shipping double guns.  Each gun is shipped broken down into barrels with forend attached and then the separate action and butt, all carefully wrapped in large 1″ bubble wrap and packed tight so there is absolutely no movement in the box.  Because of our careful packaging, we are proud to let you know we have had to make no insurance claims in the 12 years we have been in business.  Long rifles that do not break down are shipped in plastic rifle hard cases that are then enclosed in double walled cardboard rifle boxes that we have specially made to surround these cases.  This provides extra protection and does not announce while in shipment that the box obviously has a gun in it.
All guns are shipped insured for the full invoiced price.
Shipping consignment guns to us:
Sometimes we have found that consignors have a difficult time finding proper box's and have problems shipping guns.  Upon  request we will ship gun box's to you with a return shipment label.  We can even arrange for pickup.
This makes it quite easy to consign and ship a gun to us fully insured.